Visualize Business Data with Tableau
Create powerful business intelligence reports
Об этой специализации
In 2020 the world will generate 50 times the amount of data as in 2011. And 75 times the number of information sources (IDC, 2011). Being able to use this data provides huge opportunities and to turn these opportunities into reality, people need to use data to solve problems. This Specialization, in collaboration with Tableau, is intended for newcomers to data visualization with no prior experience using Tableau. We leverage Tableau's library of resources to demonstrate best practices for data visualization and data storytelling. You will view examples from real world business cases and journalistic examples from leading media companies. By the end of this specialization, you will be able to generate powerful reports and dashboards that will help people make decisions and take action based on their business data. You will use Tableau to create high-impact visualizations of common data analyses to help you see and understand your data. You will apply predicative analytics to improve business decision making. The Specialization culminates in a Capstone Project in which you will use sample data to create visualizations, dashboards, and data models to prepare a presentation to the executive leadership of a fictional company.
Автор:

Партнеры курса: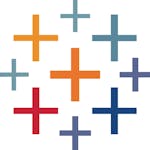 5 courses
Следуйте предложенному порядку или выберите свой.
Проекты
Поможет на практике применить полученные навыки.
Сертификаты
Отметьте новые навыки в резюме и на LinkedIn.
Beginner Specialization.

No prior experience required.
1-Й КУРС

Основы визуализации данных с использованием Tableau

Предстоящая сессия: апр 3–май 8.

Выполнение

4 недели обучения, 3-5 часов в неделю.

Субтитры

English

О курсе

В первом курсе специализации вы узнаете о том, что такое визуализация данных и как мы можем использовать ее для того, чтобы лучше рассмотреть и понять данные. Используя Tableau, мы ознакомимся с фундаментальными концепциями визуализации данных, изучим интерфейс Tableau, изучим и применим различные средства Tableau. К моменту окончания курса вы сможете подготовить данные и импортировать их в Tableau, а также объяснить взимосвзязь между анализом данных и визуализацией. Этот курс разработан для студентов, которые никогда не использовали Tableau ранее, а также для тех, кому может понадобиться освежить свои знания или изучить Tableau глубже. Технический или аналитический опыт не обязателен. Этот курс проведет вас через все необходимые шаги для создания вашего первого проекта по визуализации, начиная с контекста данных, для того, чтобы вы могли успешно продвигаться по Специализации далее

2-Й КУРС

Essential Design Principles for Tableau

Предстоящая сессия: апр 3–май 8.

Выполнение

4 weeks of study, 5-7 hours/week

Субтитры

English

О курсе

In this course, you will analyze and apply essential design principles to your Tableau visualizations. This course assumes you understand the tools within Tableau and have some knowledge of the fundamental concepts of data visualization. You will define and examine the similarities and differences of exploratory and explanatory analysis as well as begin to ask the right questions about what's needed in a visualization. You will assess how data and design work together, including how to choose the appropriate visual representation for your data, and the difference between effective and ineffective visuals. You will apply effective best practice design principles to your data visualizations and be able to illustrate examples of strategic use of contrast to highlight important elements. You will evaluate pre-attentive attributes and why they are important in visualizations. You will exam the importance of using the "right" amount of color and in the right place and be able to apply design principles to de-clutter your data visualization.

3-Й КУРС

Visual Analytics with Tableau

Предстоящая сессия: апр 3–май 8.

Выполнение

4 weeks of study, 5-7 hours/week

Субтитры

English

О курсе

In this third course of the specialization, we'll drill deeper into the tools Tableau offers in the areas of charting, dates, table calculations and mapping. We'll explore the best choices for charts, based on the type of data you are using. We'll look at specific types of charts including scatter plots, Gantt charts, histograms, bullet charts and several others, and we'll address charting guidelines. We'll define discrete and continuous dates, and examine when to use each one to explain your data. You'll learn how to create custom and quick table calculations and how to create parameters. We'll also introduce mapping and explore how Tableau can use different types of geographic data, how to connect to multiple data sources and how to create custom maps.

4-Й КУРС

Creating Dashboards and Storytelling with Tableau

Предстоящая сессия: апр 3–май 8.

Выполнение

4 weeks of study, 5-7 hours/week

Субтитры

English

О курсе

Leveraging the visualizations you created in the previous course, Visual Analytics with Tableau, you will create dashboards that help you identify the story within your data, and you will discover how to use Storypoints to create a powerful story to leave a lasting impression with your audience. You will balance the goals of your stakeholders with the needs of your end-users, and be able to structure and organize your story for maximum impact. Throughout the course you will apply more advanced functions within Tableau, such as hierarchies, actions and parameters to guide user interactions. For your final project, you will create a compelling narrative to be delivered in a meeting, as a static report, or in an interactive display online.

5-Й КУРС

Data Visualization with Tableau Project

Выполнение

6 weeks of study, 3-8 hours/week, the week will vary.

Субтитры

English

О дипломном проекте

In this project-based course, you will follow your own interests to create a portfolio worthy single-frame viz or multi-frame data story that will be shared on Tableau Public. You will use all the skills taught in this Specialization to complete this project step-by-step, with guidance from your instructors along the way. You will first create a project proposal to identify your goals for the project, including the question you wish to answer or explore with data. You will then find data that will provide the information you are seeking. You will then import that data into Tableau and prepare it for analysis. Next you will create a dashboard that will allow you to explore the data in depth and identify meaningful insights. You will then give structure to your data story by writing the story arc in narrative form. Finally, you will consult your design checklist to craft the final viz or data story in Tableau. This is your opportunity to show the world what you're capable of - so think big, and have confidence in your skills!
Авторы
Govind Acharya

Principal Analyst

Hunter Whitney

Sr. Consultant, Author, Instructor

Suk S. Brar, M.B.A.

Lead Business Consultant