Профессиональная сертификация 'Анализ данных от Google'
This is your path to a career in data analytics. In this program, you'll learn in-demand skills that will have you job-ready in less than 6 months. No degree or experience required.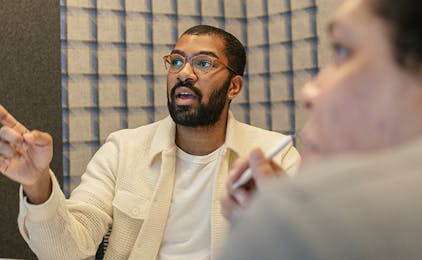 Оценок: 93,489
Зарегистрировались: 1,255,808
6 мес
Не более 10 ч обучения в неделю
Полностью свободный график
Учитесь в удобное для вас время
Учитесь у лучших и получайте необходимые для работы навыки
Начните работу в востребованной сфере анализа данных, пройдя профессиональную сертификацию Google. Узнайте, как обрабатывать и анализировать данные, использовать основные инструменты анализа, применять программирование на языке R и визуализировать данные для помощи в принятии ключевых бизнес-решений.
Популярные должности: Младший аналитик данных, младший специалист по анализу данных, младший исследователь данных, финансовый аналитик, операционный аналитик, специалист по работе с данными, аналитик эффективности бизнеса, аналитик по маркетингу, аналитик в сфере здравоохранения
¹ Данные отчета компании Burning Glass Labor Insight Report (медиана с опытом работы от 0 до 5 лет), США, за период с 01.04.2021 по 31.03.2022.
² Улучшение карьеры (например, новая работа/карьера, продвижение по службе, повышение) в течение 6 месяцев после завершения обучения, на основании результатов опроса учащихся, прошедших сертификацию, США, 2021 г.
74 000 дол. США —
медианная зарплата начинающих специалистов¹
75%
выпускников сертификаций Google продвинулись по карьерной лестнице²
380 000
вакансий в сфере аналитики данных¹
150+
После завершения обучения вы сможете отправить резюме более 150 работодателям США
¹ Данные отчета компании Burning Glass Labor Insight Report (медиана с опытом работы от 0 до 5 лет), США, за период с 01.04.2021 по 31.03.2022.
² Улучшение карьеры (например, новая работа/карьера, продвижение по службе, повышение) в течение 6 месяцев после завершения обучения, на основании результатов опроса учащихся, прошедших сертификацию, США, 2021 г.
Приобретаемые навыки
Spreadsheet

Data Cleansing

Data Analysis

Data Visualization (DataViz)

SQL

Questioning

Decision-Making

Problem Solving

Metadata

Data Collection

Data Ethics

Sample Size Determination
О профессиональной сертификации
Чему вы научитесь
Gain an immersive understanding of the practices and processes used by a junior or associate data analyst in their day-to-day job

Learn key analytical skills (data cleaning, analysis, & visualization) and tools (spreadsheets, SQL, R programming, Tableau)

Understand how to clean and organize data for analysis, and complete analysis and calculations using spreadsheets, SQL and R programming

Learn how to visualize and present data findings in dashboards, presentations and commonly used visualization platforms
Что такое профессиональная сертификация?
Получайте нужные для работы навыки
Если вы ищите новую работу или хотите сменить род деятельности, освойте новую профессию и получите профессиональный сертификат Coursera. Учитесь в собственном темпе где и когда угодно. Зарегистрируйтесь сегодня и начните новый карьерный путь с 7-дневным бесплатным пробным периодом. Приостановить обучение или завершить подписку можно в любой момент.
Практические проекты
Примените свои навыки для выполнения практических проектов и создайте портфолио, которое продемонстрирует потенциальным работодателям вашу готовность к работе. Чтобы получить сертификат, вам нужно успешно завершить проекты.
Получите документ, который подтверждает вашу квалификацию
Завершив все курсы в программе, вы получите сертификат, которым можно делиться с коллегами по отрасли, а также доступ к профессиональным ресурсам, которые помогут начать новую карьеру. Многие профессиональные сертификации признаются работодателями-партнерами, а другие помогают подготовиться к сертификационному экзамену. Подробная информация доступна на страницах профессиональных сертификаций. Часто задаваемые вопросы
Какие правила возврата средств?

Можно ли зарегистрироваться только на один курс?

Действительно ли это полностью дистанционный курс? Нужно ли мне посещать какие-либо занятия лично?

Why start a career in data analytics?

What kind of companies hire Data Analytics professionals?

How much does this certificate cost?

Is this program offered in other languages?

What background knowledge is necessary?

Do I need to take the courses in a specific order?

Will you be teaching R or Python?

Which jobs does this program prepare for?

What will I be able to do upon completing the professional certificate?

What resources will be available to help with the job search process?

Why did Google create this program?

Can I get college credit for taking the Google Data Analytics Certificate?
Остались вопросы? Посетите Центр поддержки учащихся.